Who are we? The Story of Awesome Maps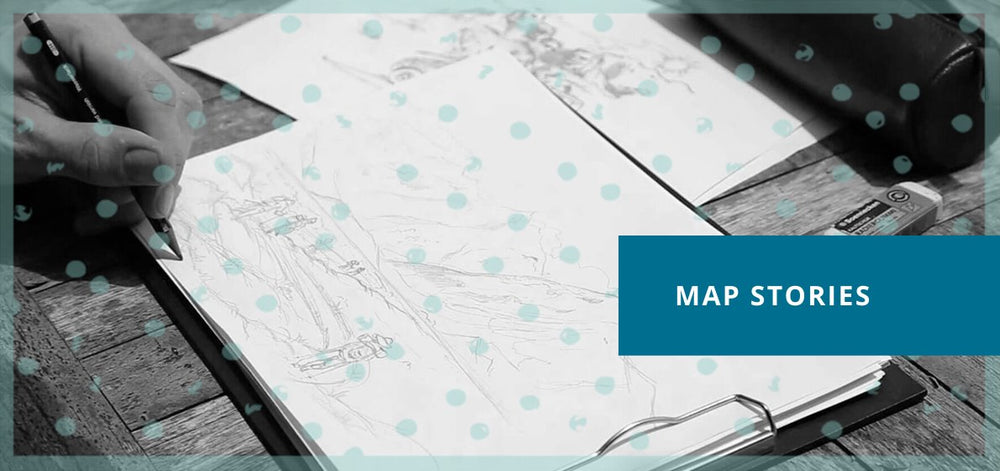 Hello fellow explorers!
Welcome to our blog, a new space where we will be sharing travel guides, creative gift ideas, stories from the road, adventure tips and more.
Before we get started, allow us to introduce ourselves. We'd like to share who we are, the story of how we came to be, and the ethos that underlies every map, so that you can see where everything we do comes from and why we do what we do. 
It all started with an idea.
Simon has been an entrepreneur since an early age. At 15 he found himself too young to legally work; he took matters into his own hands and started a business importing golf clubs from the States. Fast forward a few years to 2009, his entrepreneurial spirit still strong, Simon went on a surf trip through Europe and wanted to track his surf travels by pinning the spots he had been on a map. However, doing so on a political map, all that was available, was incredibly boring... 
Enthralled, Simon got to work, tasked with making a map more interesting and nicer to look at- that's where illustrator (and an absolute comic nerd) Lars came in, and he quickly became just as crazy about the idea as Simon. Whilst figuring out which places to include, Simon realised that he'd inadvertently learnt a hell of a lot about the different surf spots around the world, and it seemed like a waste not to include that on the map too... His research combined with Lars' beautiful illustrations resulted in the perfect harmony of information and visual appeal that you can still see and recognise today. As the map came to life, it needed a website. Timo was 16 years old and stuck home from school due to an injury, so he'd taken it upon himself to learn web design. His initiative and appetite to learn made him a perfect match for the team. 
Simon and Timo, before and after... 
And that's where it all started, and it started slowly. For anyone who's thought about starting a business, you probably know it requires huge amounts of time, energy, and work, and often next to nothing in payoffs for the first few years.
For some perspective of just how tough those first few years were, in 2010, Simon was pretty broke, living in a tent and working full-time at his highly desirable, (yet dreadfully low-paid...) internship for Myspace in Berlin. Yep, Myspace. Do you feel old now? Timo was working full time at a web agency in Bremen, working extra hours to get the website up and running. Throughout these months, they could lean on each other, always knowing that the others would be working hard, giving each other the encouragement they needed.  
When speaking to the guys about what kept them going during those difficult years, their answer is a simple, yet resounding, "We love what we do!" To love what you do is to love the good times as much as the tough times, to respect the journey more than any perceived outcome, and to simply have faith in yourself and your idea. 
Simon's flat c.2014. Healthy work/life boundaries
Connections matter.
2012 was a big milestone for the company when Simon quit his full time job. In 2013 on his first trip to Bali, he began conversing with someone out in the water while surfing. While chatting, this guy recommended that he check out the Surftrip Map, a "really cool map for surfers." Back in 2013, Simon was shocked to hear that someone had not only heard of his company but was actually endorsing it to him, of all people, in the middle of the ocean in Bali, of all places. They got out of the water and the guy introduced him to his girlfriend sitting on the beach, "Hey, this is Simon, the guy who makes the Surftrip Map." That girlfriend was Katharina, who fast forward two years, would step in as the newest addition to the Awesome Maps team. 
Katharina's experience, initiative, and love for adventure made her the perfect match. The small but mighty team continued to try new things, some that worked and some that didn't, but never losing that love for Awesome Maps, it fueled each of them to continue on the journey together.
Awesome Maps Today
The number of maps we make has gone from one to nineteen and our team has grown from three to nine. Each hand-picked team member comes from their own walk of life and plays a different, yet critical role in the company. Working remotely but together allows us to live a life that's aligned with our values while contributing to something bigger, doing what we do best. With the independence comes responsibility to take initiative and throw our best selves into our work. Lucky for us, we love what we do and the people that we do it with. This makes it a whole lot easier!
(Nearly) all of us in Berlin last month, hard at work
Needless to say, Awesome Maps is made up of hard work, great people and a strong belief that anything can be accomplished when you work together for something that you love. So although you may see a map company, we're really so much more than that. It's been said that in the search for adventure, you often find yourself. Awesome Maps has been nothing short of an adventure, and we're so excited to see where it takes us. So whether you own a map or just stopped by to see what we're all about, may we inspire you to embrace your adventure, allowing curiosity to be your compass. Remember- the only thing between you and your next discovery is you.
---
1 comment
---
---