Surfing the Artificial Wave at Surf Snowdonia: How it Works and What to Expect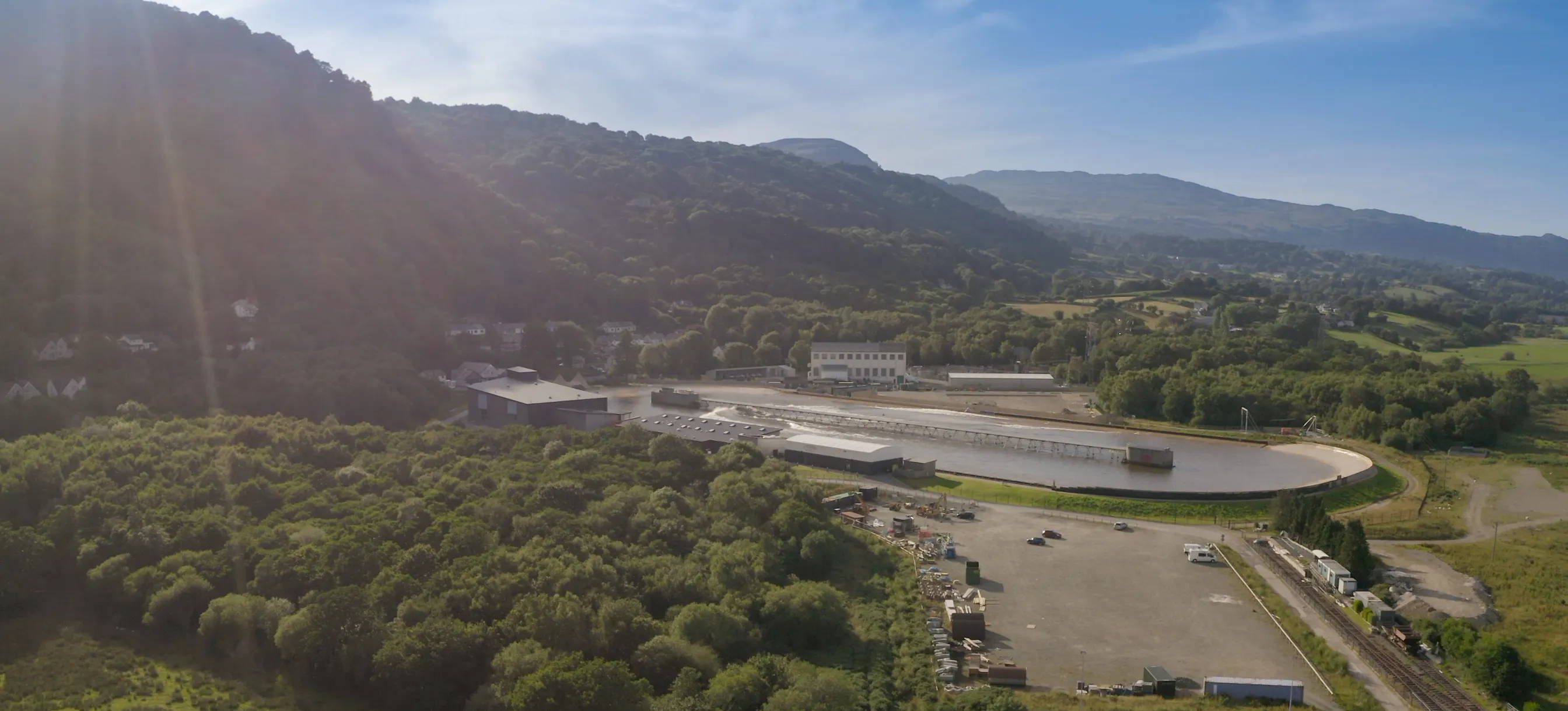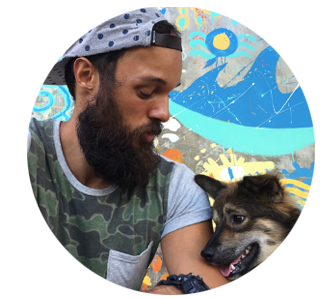 24 October 2019
WRITTEN BY SIMON
Simon is the founder of Awesome Maps and lover of all things adventure.
T
his summer, as part of a motorbike road trip through Scotland, Ireland and Wales, we finally did it. After watching lots of wave pool footage, we wanted to try one out ourselves. The appeal of having the same wave coming through every 90 seconds and nobody dropping in on you - just too good to be true, right? Well, you better believe it. It didn't disappoint.

This is our guide to surfing the artificial wave at Surf Snowdonia.

Watch the video below to get a good idea about the pool and how everything works and read the blog post for additional details.
---
---
A stone's throw away from Snowdonia National Park!
---
Surf Snowdonia
Conway Rd, Dolgarrog,
LL32 8QE
Wales
---
Of course it's always better to discover a new spot on your favourite awesome Surftrip Map ¯\_(ツ)_/¯
So, how does the wave pool work?
Four waves are created to each side of what is kind of a snowplough that goes back and forth in the wave pool.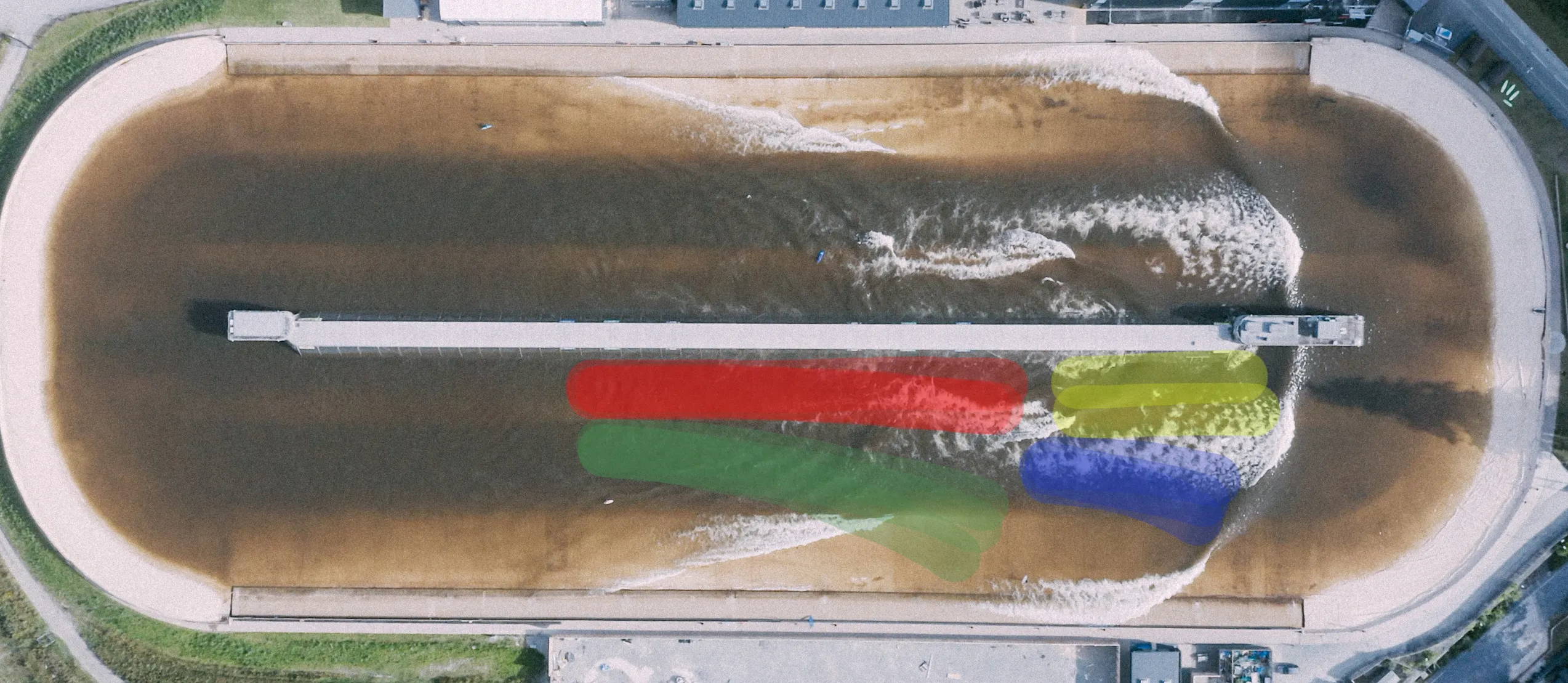 ADVANCED WAVE
Unbroken wave, the longest ride they offer. It's a green wave when you paddle for it & has an open face for almost the entire ride. You catch every third wave so you alternate between lefts and rights. Your total wave count will be about 10-12 waves for one session of 1hr. It's a proper wave and great fun.
INTERMEDIATE 2 WAVE
Great for take off but after a bottom turn, closes out. Great for practising taking off on unbroken waves, but not for practising turns. You'll be given one of the 4 intermediates (a L & or R on either side of the snowplough) & you'll be surfing that same wave the whole time. You catch every other wave, so expect 15-18 waves.
INTERMEDIATE 1 WAVE
It's broken for take off & the entire ride. Good for helping you practice paddling for a wave & catching it. It's an easier take off than the intermediate 2, so if you generally struggle with nosediving & taking off, this wave is good for practice. You'll be given one of the 4 waves.
BEGINNER
Pretty much the same wave as intermediate 1, but slower & shared with up to 5 people. It's meant to give you a feeling for catching the wave and sharing the joy with others. You'll be given one of the 4 waves and that will be yours for the session.
So, we hope this will give you a better idea! These are just our learnings and observations, so we recommend watching the video and making up your mind based on your own experience.
"As you have to book in advance, you'll have to decide which waves you book before you go."
TOP TIP
Which wave should you choose?
"If you book the wrong wave of the wave pool, you can't really change when you get there."
TOP TIP
If you think about it, it makes sense for them, because they have a limited amount of waves and it all needs to be perfectly timed to work out. Of course, for you, it's still annoying if you pick the wrong one. But luckily for you, you found this blog post! Hurrah.
How many surf sessions can you do in a day?
Obviously, this will very much depend on your fitness, but here are some ideas to help you structure your days.
ADVANCED SURFER
I can easily surf 1.5hrs in the ocean & in the wave pool, I did 3-4 sessions/day, which was good. Anything over would've been pushing it! The wave takes some getting used to, so book the first 2 surf sessions back to back: one to get the hang of it & another to really dive in. If you arrive in the afternoon, you can also start with a nice afternoon surf session and then attack the next day.
INTERMEDIATE SURFER
By very definition, you won't be as used to surfing, so the recommendation would be 2-3 surf sessions per day. You can probably do a back to back session, which we think would make more sense than 3 individual surf sessions.
This is what our schedule looked like. If we could do it again, we'd limit day 3 to one or two surf sessions (check out the progression section below for the reasons why).
Our surf schedule for the weekend
Can you rent a surfboard?
They have a surf shop where beginners and intermediate surfers can only rent a soft top surfboard, but intermediate surfers could potentially bring their own surfboard.
For the advanced wave, you can rent decent surfboards in different sizes.
When we were there, the surfboards they had in the surf shop were:
Firewire Greedy Beaver FDS + Timber Tek 6'0ft 37.5L

Firewire Greedy Beaver FDS + Timber Tek 6'2ft 40.9L

Firewire Gamma Slater Helium 6'0ft 3

3.2L

Firewire Gamma Slater Helium 6'2ft 35.4L

Firewire Timber Tek Baked Potato 5'3ft 32.4L

Firewire Spit Fire FST 5'8ft 31L

Firewire Helium Evo 5'8ft 35.6L

Firewire Sci-Fi LFT 5'8ft 27.7L

Firewire Omni LFT 5'7ft 30.8L

Firewire (Pyzel) Slab FST 5'11ft 27.3L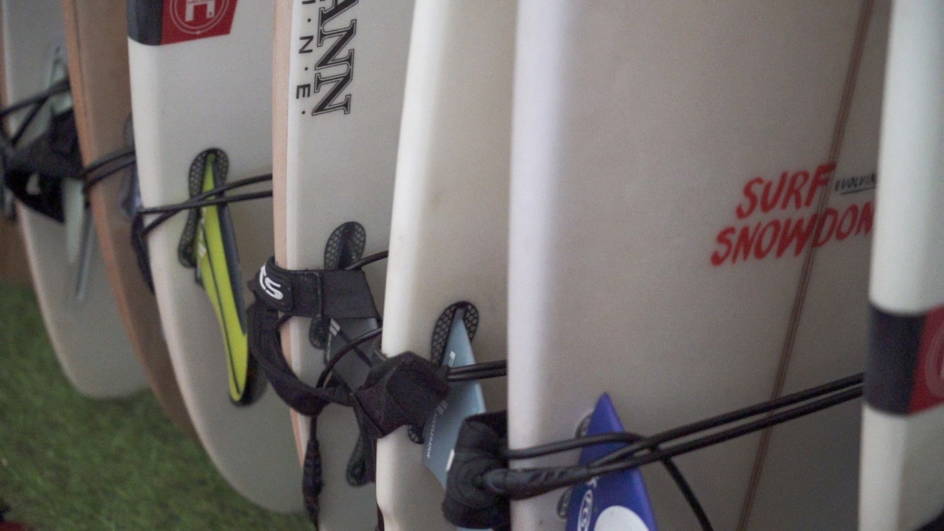 "You can't book a surfboard, but if you ask 20 minutes before your session, they will try to hold a board for you"
TOP TIP
It's not a guarantee though. Considering you do pay a fair amount, not only for your session, but also the overall stay, it can be frustrating not to be able to get the most out of it by having a surfboard that suits you. So, it'd be great if they could let you reserve a surfboard or have a bigger selection. Anyway, onwards we move.
Honestly, just get.a.coach. We can't stress this enough. You can book your coach after you've booked and paid for your wave. Why get a coach?
Having someone coach you is actually one of the main benefits of surfing here. So, make the most of it. It makes a big difference whether you have a coach or a friend who also surfs. You'll be filmed while riding every wave and your coach will then go through the footage with you and explain what you're doing wrong and how to improve. All the surf coaches we had were very friendly and knowledgeable.
ADVANCED SURFER
An example from my own experience: I stand upright and should actually bend my knees. But I jumped up after every pop up and stood up straight. My coach told me to try and keep touching the board with my fingertips after my pop up for an extra second and that really made a difference! Not by focusing on my knees, but by focusing on touching the surfboard I kept bending my kness.
INTERMEDIATE SURFER
Frustratingly, coaches for the intermediate wave weren't available, which seems a bit strange. You can book beginner, intermediate & advanced courses in the surf school, but they're infrequent and none were available when we were there. Being able to have a coach for 1 or 2 sessions would've made a huge impact on Ian's experience. But heyho, we move on.
---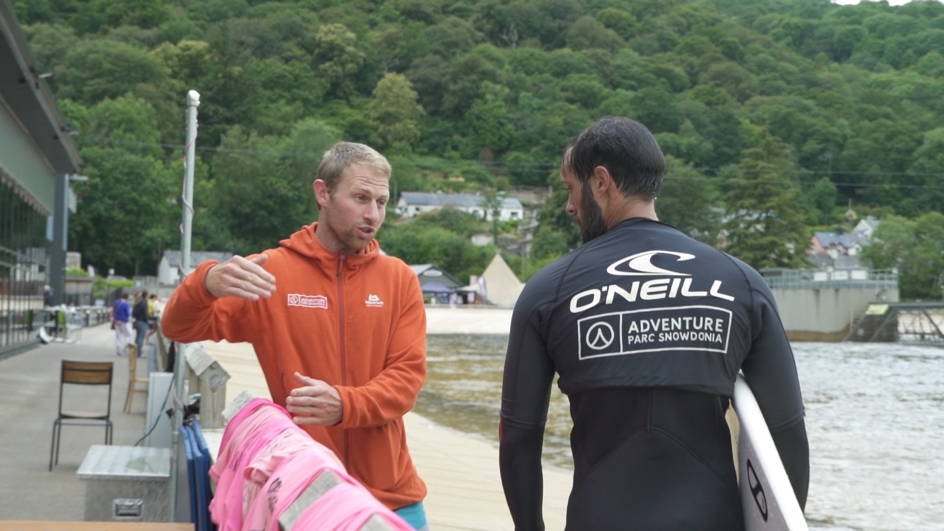 Getting some tips after a wave
"Get a coach. They know exactly what you should focus on and the best ways to make you understand how you can change something that you're doing wrong and improve it."
TOP TIP
We recommend surfing the wave once, before getting a coaching session, because it takes some getting used to. Also, it makes sense not to do back to back coaching sessions, because you can get some pointers from the coach, then do a free surf session where you try to put that into practice, then get another coaching session and so on!

As we mentioned, you have to book the coach after booking the wave, which can be a bit of a risk. It worked out for us, but for peace of mind, it would be nice to be able to book the coach together with your waves.
How does it compare to real surfing?
Having tried standing waves, river waves and flowrider waves before, I wasn't expecting it to be like real surfing. But the thrill of paddling for a wave, the sheer excitement when you feel the wave has you and you pop up and start turning – you'll find plenty of that here, which is pretty amazing.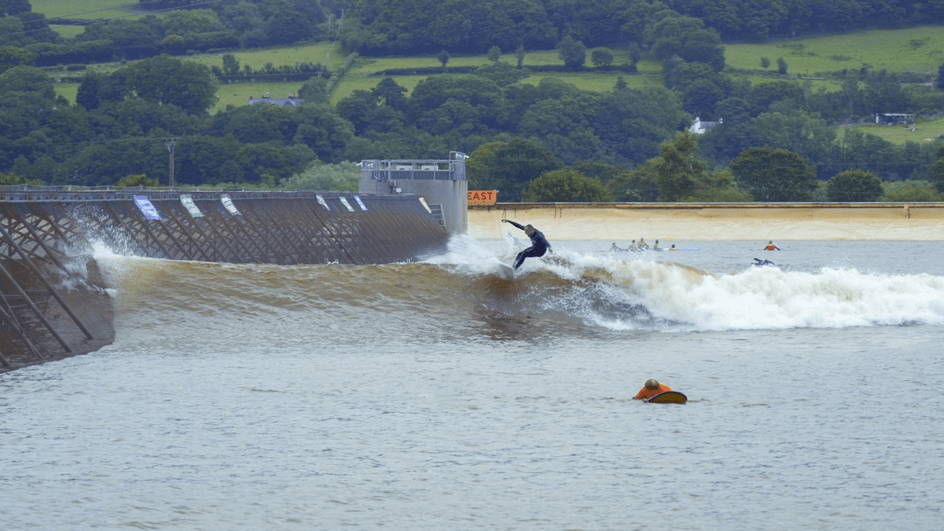 What is distinctly different is that the wave in this wave pool is being created from the middle, so that's where the power is. Unlike in the ocean, the whitewater is where the wave ends and not where it's coming from. It's powerless, so if you end up in the whitewater, you will lose the wave. It takes some getting used to, but once you've got it, you'll have the stoke you have in the ocean.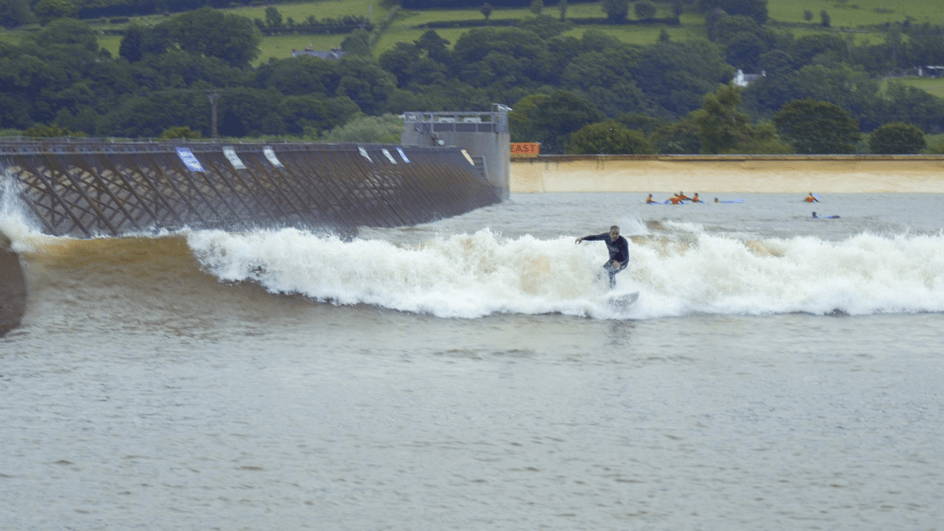 He will never make it back on the wave here
Of course, nothing artificially made will ever come close to a sunset on the beach, walking through the warm sand, paddling out in excitement and sitting in the lineup with the sun warming your skin - but the ride itself in the wave pool is amazingly fun! Although, if this description of amazing surf has sparked your wanderlust, we have a map for you that shows you the best surf spots in the world. Printed on paper, foldable and indestructible material, for your coffee table or to travel with or on a towel, just like this one.
Amazing dog, towel, surfboard - in that order
Will you fall into the artificial wave machine and die a horrible death?
It generally felt pretty safe. When you fall, the water is deep enough and also, between you and the snowplough, there's a mesh fence. As we mentioned before, the energy comes from the snowplough, so falling into the mesh seems pretty hard to do! Paddling right next to the mesh and popping up did feel strange and took some getting used to, but the wave pushes you away from it and you'd have to actively try to ride into the mesh. Even then, it didn't feel like anything would happen. Of course, this is just personal opinion and you should be careful and only do what feels safe for you.

The bottom of the wave pool is a foil that gets super slippery and when you walk out, you can struggle. I slipped a couple of times, despite knowing how slippery it was. I don't know how much maintenance is needed and whether it's feasible or not, but a bit more grip would've been appreciated, although it's not a big deal.

The water can look a bit murky in pictures, but we never had the feeling that the water quality was bad. I swallowed a lot of the water and didn't have any problems. Again, no guarantees here, just our experience!
What can your weekend at Surf Snowdonia look like?
Morning
Afternoon

Solo Session

Coached Session
We're assuming that you're considering going there to surf for a weekend. If you're out of shape, an afternoon surf session to get back into the water would make sense (for the levels of Intermediate 1, 2 and Advanced).

Then on your first full day, you could consider having a nice breakfast and then doing a double surf session, followed by a nice long break. Consider having a coach for that second session of the morning. Then, another afternoon surf session and a nice, long night. You will be exhausted.

On day two, start with another coached session and do one more on your own, maybe leaving 2-3 hours in between. Time flies and if you only leave one hour, you would be rushed, because returning your surfboard, getting out of the wetsuit, showering, changing and the whole process of getting ready again takes some time.
How much does a weekend at Surf Snowdonia cost?
You can see the prices on their website. So this is more to give you an idea about how much money you should have in mind when you're planning for a weekend, because chances are, you're travelling there just to surf and will have a full weekend.
*price for the whole day, regardless of how many sessions you do
5 Surf Sessions: £250 (275€/$300)

2hrs of coaching: £100 (110€/$120)

Board rental*: £10 (11€/$12)

Wetsuit hire*: £6 (7€/$8)

Food, Coffee, Snacks: £50 (55€/$60) per day

Accommodation: cheap if camping, Airbnb about £60 (66€/$73) pp/night
How can surfing the wave help me progress?
This is the important bit. How much can you progress over approximately 5 sessions in 2-3 days? This was our experience, as a beginner surfer and an intermediate surfer (hello, this is Simon writing, the intermediate one).

Before going into some photo examples, here's my opinion. I think it's an amazing way of actually understanding how you should surf and seeing what you're doing wrong, so you can improve. And this applies pretty much regardless of your level or skills.

The value of seeing yourself on a wave, getting feedback, maybe doing a practice exercise on land, then trying again and seeing the result is insane! I think I've learnt more in 2 days than I could've ever learnt in the ocean. I have a lot to work on and now I have some pointers as to what to look out for when surfing. Amazing!

Progression is a bit different, though. Progress takes time and, while I think we both got a little better in 2 days, it's not like we're completely different surfers. This is also why I think that 3 hours, with one coached session, could be enough - that'll give you 80% of your learnings. Of course, we can't judge what an actual week there and doing some of the courses in their surf school would do. Maybe that's something for another post.
Progress - Intermediate Surfer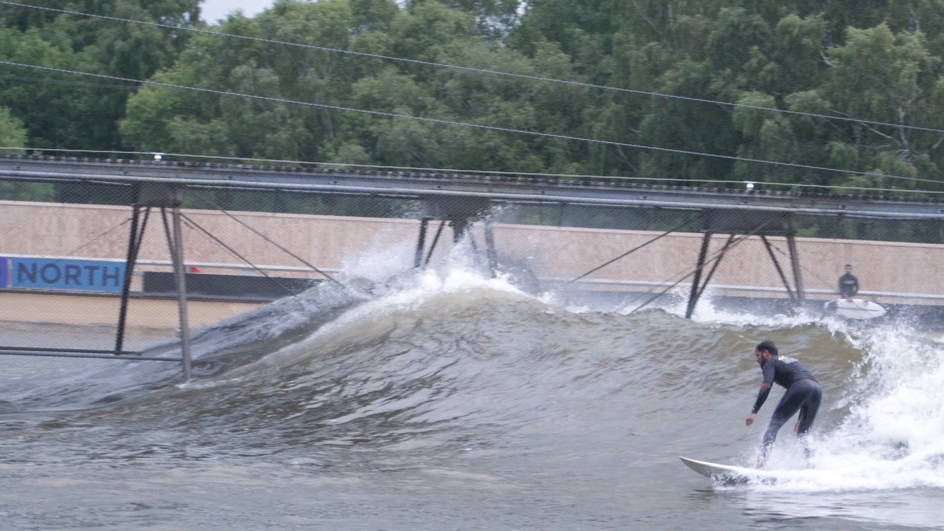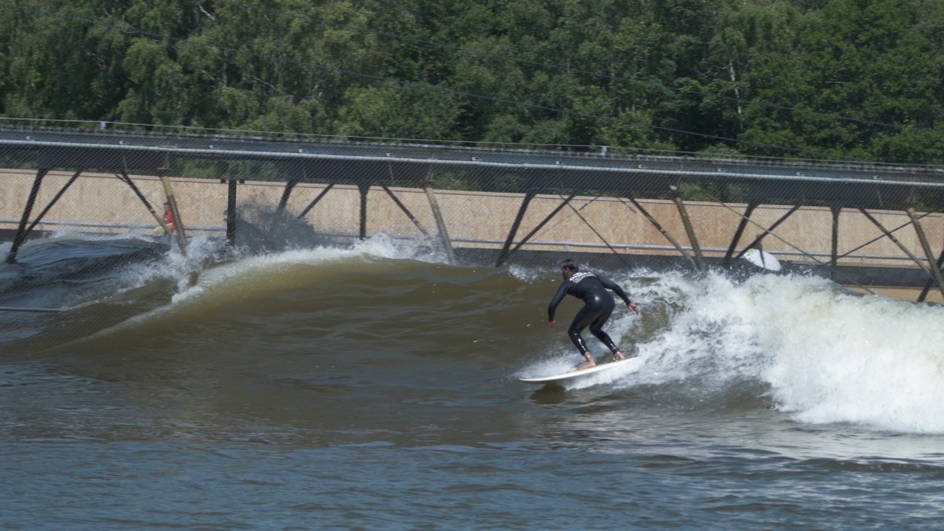 First vs. last session - intermediate surfer (on advanced wave)
Although I'm not completely there yet, I think it's obvious that the overall position on the wave, body tension and posture are much better. Granted, maybe I tried to find a picture that really emphasised the point! But, the value of all this is now I know all these things and I will learn in the ocean.
Progress - Beginner Surfer
OK, time to have a look at my friend Ian - a beginner.

He'd surfed twice before so we decided to go with Intermediate 2, which was a mistake. If only this blog post and the Awesome Maps video had existed when we booked ¯\_(ツ)_/¯

Let's focus on 2 things: the posture when paddling out and the surfboard control when paddling for a wave.

As he paddles out you can see there is not body tension whatsoever. No arched back. Nothing. He is basically lying on the board. As he takes off you can see his legs are all over the place and as soon as his board slides down the face of the wave he loses control completely.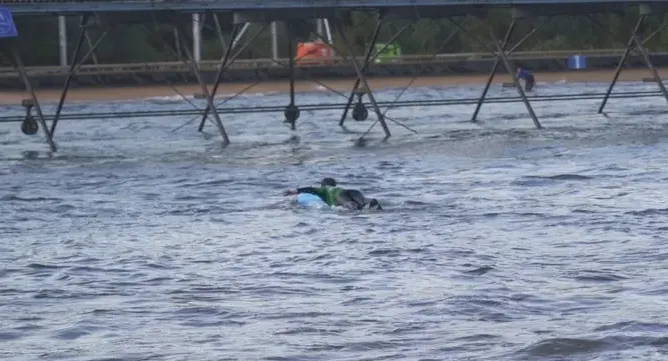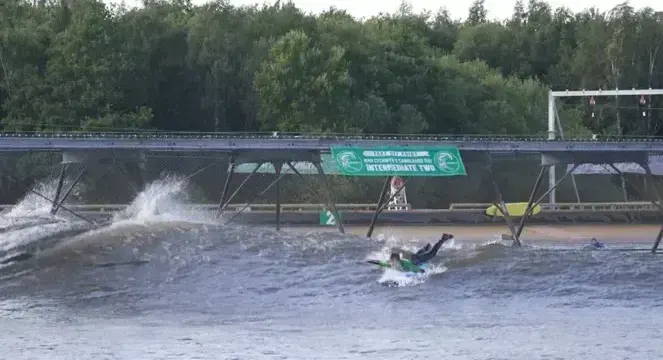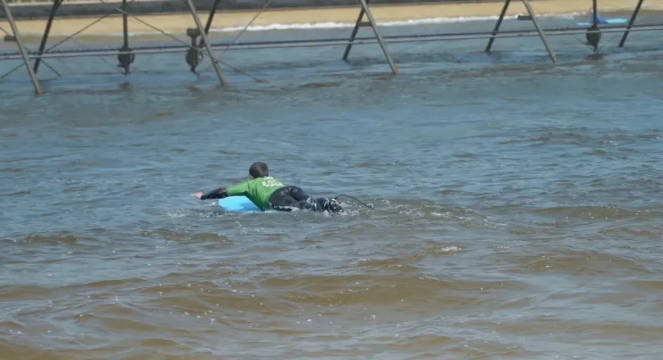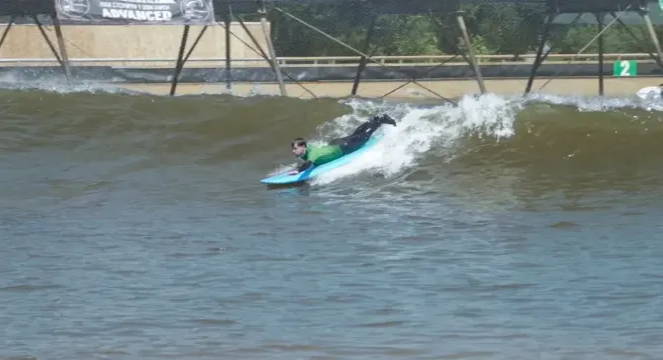 First vs. last session - beginner surfer
Two days later - Look at this guy. Look at this guy. His chest isn't touching the board, his back is arched, his legs are spring-loaded, ready to pop up on the next wave he catches. Then as he paddles for the wave, his chest is still arched, nice paddle strokes. His legs are together. You can see a nose dive is imminent because he has too much weight on the front of the board and should've already popped up. But, he keeps his legs together and doesn't completely let go, like he did in day one!

As I said before, a coach is so worth it, plus it can be tricky to pick the right wave for your skill. If Ian had a coach and started off with Intermediate 1, I think the results would've been better and he would've had more fun. That being said, you can definitely see a big difference between his first and his last paddle out.
It's quite an investment and a few of the things we pointed out before (rental surfboard not available in your size, can't book coach together with wave) shouldn't be something you worry about when you're looking at potentially dropping £600 (€660/$730) for a weekend.

That being said, it was amazingly fun and our surfing greatly benefitted from it.

It would be great to see the progress one could make by doing courses in their surf school and surfing the wave pool over a week. So if anyone already did this, please let us know.

And, tell us, because we want to know...
What gives you the adrenaline rush we got here?
---
---
---
Spread the word, share the love!
---
Want more surf inspiration?
---
---