Best Places for Snowsports in Europe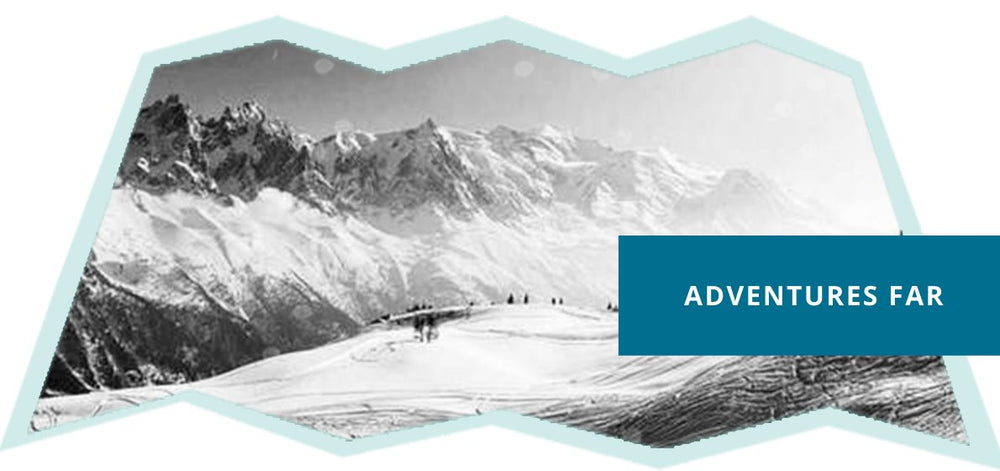 In all of the best places to ski in Europe, skiing and snowboarding are more than just sports; they're rooted in the culture, an integral part of the history and lifestyle. With so many resorts scattered across the continent, it's never been easier to find the ideal spot for your snow trip! Because we're obsessed with snow sports ourselves, we make it easier for you by breaking down the best skiing in Europe.
Chamonix, France
This world class ski resort, nicknamed 'Route Blanche' or 'White Route,' is situated at the base of Mount Blanc, the highest summit in the Alps. Chamonix is well known for its spectacular scenery, extensive terrain and huge variety of slopes.
Best suited for: Advanced thrill seekers who want to go skiing in the Alps should add Chamonix to the top of their bucket list. You won't be disappointed by the steep, challenging runs, considered by many to be the best freeride ski and snowboard resort on the planet.
Don't miss: For the adventurous, Vallée Blanche is the longest off-piste run in Europe, totaling 20 km (12 miles) of difficult and exciting terrain.
Resort/ town vibe: The lively resort takes up the entire valley with active nightlife and off-slope entertainment that draws in families and skiers/ snowboarders of all ages.
Andermatt, Switzerland
Andermatt is situated in the Useren Valley of Switzerland and is one of the most snow-sure ski destinations in Europe. It's an old school favorite that's sure to entice skiers and boarders with plenty of untracked runs and off-piste skiing- 120 km (75 miles) to be exact.
Best suited for: Here you will find challenging terrain covered deep with snow- Andermatt is family-friendly but particularly suited for intermediate skiers, although a new lift now offers access the more relaxing slopes.
Don't miss: Andermatt is well-known for its wild off-piste terrain. If you're feeling brave, don't leave without hitting legendary routes like Giraffe and Geissberg.
Resort/ town vibe: The quaint village is relatively tame and small enough to explore on foot. There are plenty of restaurants, traditional Swiss chalets, and mountain view scenery to keep you interested.
Hochkönig, Austria
Taking your snow trip on the Hochkönig is ideal for those who want slopes diverse and rich in variety. Here riders can look forward to a modest but nonetheless exciting 130 km (81 miles) of slopes on the highest mountain in the Berchtesgaden Alps; the peak looms over neighboring glaciers at an altitude of 2941 m (9649 ft).
Best for: Skiers and snowboarders looking to log some distance! Here you'll find the renowned Königstour, an epic itinerary of six summits and 35 kilometers (22 miles) of continuous slopes; this breathtaking ski tour is some of the best in the Alps.
Don't miss: Cap off your day with food and drinks at whichever rotating venue is hosting the 'sundowner' hut for the night. Then you can grab your headlamp and slide down specified slopes open until late at night.
Resort/ town vibe: The Hochkönig ski resort connects the villages of Maria Alm, Dienten, and Mühlbach where ski huts range from more local and affordable to upscale and swanky. By night, there are plenty of restaurants and bars to enjoy good music and food.
La Grave, France
Not for the faint of heart, La Grave consists almost entirely of untamed, off-piste mountainside. And because it's often overshadowed by world famous Chamonix, this ski destination is a crowd free paradise for serious backcountry riders. Even for the more advanced, a guide is highly recommended.
Best for: Advanced skiers looking for challenging runs. You'll find no lack of exciting new terrain to venture down.
Don't miss: Below the majestic glaciers of La Meije, a classic freeride itinerary, the Vallons De La Meije is a stunning, steep run reserved for those with some knowledge of the mountain.
Resort/ town vibe: Skiers and snowboarders tend to save their energy for their daytime adventures, meaning there's not much noise off the slopes in this small, traditional French village.
St. Anton, Austria
St. Anton's pristine slopes and reliable conditions promise great selection for skiers and snowboarders of varying levels- you can choose from 340 km (211 mi) of slopes and 200 km (124 mi) of off-piste itineraries. It's only a few hours drive from three international airports plus has a railway station, making it an easy choice for your next snow holiday.
Best for: This is a great family option! Intermediates looking to advance will thrive here as well as kids who have the option of attending a high-quality children's ski school. There are loads of off-slope activities and family-friendly hotels and restaurants.
Don't miss: From the summit of Valluga Mountain, you can see mountain peaks from five countries- Austria, Italy, Switzerland, Liechtenstein, and Germany! We highly recommend taking a scenic ride to this spectacular vantage point on a clear day.
Town/ resort vibe: As you might expect from one of the best places to ski in Europe, St. Anton has it all. Its bustling town is complete with trendy hotels, chalets, restaurants and plenty of apres-ski entertainment.
Champoluc, Italy
Champoluc is one of the three main resorts that make up the Monterosa ski area; here you will find 200 km (124 mi) of freshly groomed powder and spectacular scenery accompanied with a low-key, local vibe. This underrated ski destination is perfect for someone who prefers a non-touristic resort.
Best for: Champoluc is ideal for intermediate skiers and snowboarders but also links to areas with extensive off-piste runs like Gressoney and Alagna where experts will find some interesting terrain.
Don't miss: For confident intermediate skiers, we recommend del Colle, a superb red run above Frachey.
Town/ resort vibe: Although charming, don't expect much activity off the slopes. One advantage to Champoluc is that it's local vibe means food and drinks are much cheaper than its better known competitors.
Verbier, Switzerland
This is the main resort in the Four Valleys, Switzerland's largest ski area. Youthful, adventurous clientele flourish in Verbier, with diverse terrain, exciting nightlife, and endless spectacular views.
Best for: Brave skiers and snowboarders who are looking for a challenge will shine here. At the right time of year you can spectate some thrilling events that have come to call Verbier home- Xtreme Verbier, the Verbier High Five, and the Patrouille des Glaciers.
Don't miss: Make the terrain park in La Chaux part of your day's itinerary, complete with blue, red, and black routes, an exhilarating snow cross run and even a giant airbag!
Town/ resort vibe: The resort is lively with many bars and restaurants to choose from. But as you might expect at one of the most popular ski resorts in Europe, prices run high!

Baqueira-Beret, Spain
Baqueira- Beret is a somewhat of a prized possession among the Spanish. Positioned in the Pyrenees, it's a mountainous mecca close to the French border- the closest airport is actually Toulouse. Baqueira boasts 146 km (91 miles) of beautiful piste itineraries that draw in riders from all over Europe.
Best For: The majority of the terrain best suits intermediate to advanced skiers and snowboarders who aren't afraid to veer off course as nearly every marked run has exciting off-piste variations to choose from.
Don't miss: One of the most attractive points of Baqueira- Beret is the relatively low-cost heli-skiing. Take advantage of a full day or even just a few drops for a very reasonable cost.
Town/ resort vibe: Skiing at Baqueira means you can choose to base yourself at one of several medieval hillside villages not far from the main resort. In towns like Vielha, Arties, and Salardu you will find good value accommodation and fine Spanish restaurants. Life here functions in the typical Spanish way- tapas and drinks around 7pm before family dinner at 10, after which the Spaniards will be enjoying their midnight coffee and you will probably crawling into bed.
Bonus: Riksgransen, Sweden
We had to end our list with Riksgransen, a less popular, yet uniquely exciting place for skiing and snowboarding in Europe. This is one of the world's most northerly ski resorts and was literally depopulated in the early 1900s due to uncontrollable amounts of snow, contributing to its more than ideal conditions (at least for snowsports!) today.
Our tip: head here during select dates in May when it's possible to ski under the midnight sun- now that's a special snow trip!
If you love snow sports as much as we do, check out our Snowtrip Map- where Europe is just one piece of the best skiing and snowboarding around the world. Is your all time favorite snow destination on our map? 
Photos from Natia Rukhadze, Chris Biron, Lukas, Laureen Missaire, sunylea, Jacek Dylag
---